Barton Moss fracking protesters told to leave camp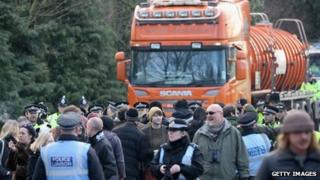 Fracking protesters have been ordered to move from a camp near a drilling site in Salford.
About 60 people have been camped on land near Barton Moss, where energy company IGas started testing for shale gas in November.
Landowners Peel Investments asked Manchester Civil Justice Centre for possession of the camp, which was granted by Judge Mark Pelling QC.
Protesters now have until midday on Tuesday to move.
Protester Martin Burke, who was one of the defendants named in the case, said anti-fracking campaigners were appealing against the decision at the Court of Appeal.
"This case is a success in the campaign to highlight the fact that fracking is dangerous and that's what we're here to do," he said.
'Peaceful protest'
He said Barton Moss protest was a "peaceful campaign" and he did not expect a confrontation on eviction.
The other named defendant, Ian Crane, said: "Whatever happens to the camp, the campaign against the dangers of fracking continues."
A spokesman for Peel Investments, which claimed in court the camp was causing problems for the public and the police, said the company would not be commenting on the judgement.
The protesters argued the firm did not own the land where the camp sits and had no right to evict them.
About 1,000 people took part in an anti-fracking rally held in Manchester city centre on Sunday.
Fracking involves pumping a mixture of water and chemicals into shale rock at high pressure to extract gas and oil.