Prolific Leigh fraudster Simon Hayes jailed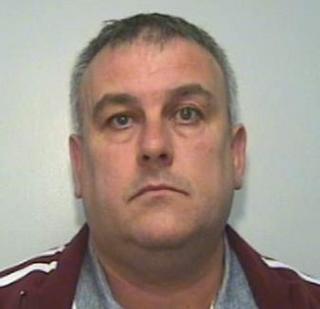 A prolific fraudster who conned people out of £150,000 over 12 years has been jailed for 40 months.
Simon Hayes, 49, of Henrietta Street, Leigh, admitted fraud at an earlier hearing at Liverpool Crown Court.
He approached people at home or in retail stores' car parks, saying he could obtain white or electrical goods.
Money was handed over, but he never delivered the items. A Proceeds of Crime Act (POCA) hearing will take place in June.
He also asked people for money to start businesses. The offences took place between 2001 and June last year, when he was arrested.
Barred from bookmakers
Det Con Paul Taylor, of Greater Manchester Police, said: "He often pretended he was going to go into business or buying land and needed a substantial amount of money before he could do this. He claimed once things were up and running, he would pay them back - but never did.
"He had the audacity to approach people in the street, some elderly, claiming he would be able to get them washing machines, fridge freezers, laptops or TVs because he worked for a retail outlet."
He collected the money, Mr Taylor said, but gave nothing in return.
He said the range of offences showed he would "do absolutely anything" to get money. Police found he spent most of his money gambling and had been barred from several bookmakers in Wigan and Leigh.
He approached his first victim in 2001, a 67-year-old woman he had known since he was a child, asking to borrow £500. He continued to 'borrow' thousands of pounds until 2003, for a business venture. In 2009, he said he would buy white goods and she handed over £47,500 for items and a TV. In total, she was defrauded out of £70,500.
He befriended a 68-year-old man who had cancer at a bookmakers in Atherton saying he needed money to buy land. He defrauded him out of £18,000 and the man introduced Hayes to a 75-year-old, who was conned out of £40,000.
A number of other victims were conned out of money in a variety of ruses.