Barton Moss: Police protest handling investigated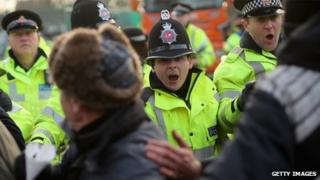 An independent panel examining how police deal with major protests and demonstrations in Greater Manchester has been set up.
It follows a number of confrontations involving protestors and Greater Manchester Police (GMP) at Barton Moss.
Exploratory drilling for shale gas is taking place at the Salford site, with an anti-fracking protest camp nearby.
The panel, set up by Police and Crime Commissioner Tony Lloyd, will hold its first meeting next week.
IGas, which is conducting tests at Barton Moss, has been at the site since November and is expected to leave at the end of the month
'Independent scrutiny'
A legal bid by the landowners to remove protestors was launched in February, with the case due to be heard at Manchester Civil Justice Centre on Thursday.
The force previously said it normally used 60 officers a day to police the site, but on some occasions this rose to 150.
According to the Police and Crime Commissioner, the panel will provide "strategic advice" as well as being "actively involved in police operations during live events".
Mr Lloyd said: "This panel will ensure that there is independent scrutiny of how police approach demonstrations in our region."