Rally for Anthony Grainger shot dead by police two years ago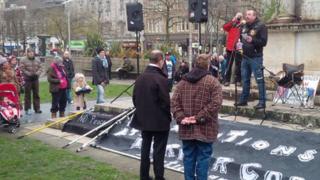 A rally was held to mark the second anniversary of the shooting dead of Anthony Grainger by police.
Mr Grainger, 36, who was unarmed, was killed when he was shot in the chest during a Greater Manchester Police operation in Cheshire in 2012.
The Justice4Grainger Campaign held a protest rally with speakers in Piccadilly Gardens, Manchester.
Chief Constable Peter Fahy is facing health and safety charges related to the death.
He denies failing to discharge a duty under the Health and Safety at Work Act 1974.
Mr Fahy was charged as the "corporation sole" for the force, a legal status that means he is a representative of Greater Manchester Police but does not share criminal liability.
Since his death it has emerged Mr Grainger had been wrongly suspected of robbery.
Relatives and campaigners for other people who have been shot dead by police or died in police custody were attending the Manchester event.