Burning plastic at Horwich recycling plant blaze causes 'toxic' smoke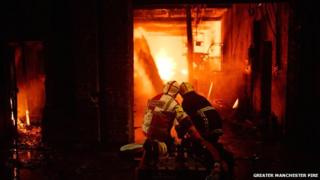 Residents have been urged to keep doors and windows closed due to "toxic smoke" caused by a blaze at a recycling plant in Greater Manchester.
Greater Manchester Fire and Rescue Service (GMFRS) were called to Horwich Loco Industrial Estate, off Chorley New Road in Bolton, at about 00:25 GMT.
About 40 firefighters tackled the fire, which involved a lot of plastic.
Wayne Guffogg, from GMFRS, said "toxic smoke" had been "coming off [from the fire] for several hours".
The station manager said: "Firefighters worked hard to contain the fire to the building involved and stop it spreading to neighbouring businesses.
"We worked with local businesses to reopen the roads on the industrial estate and allow workers to go about their day to day business."
The incident has been scaled down to about 15 firefighters, GMFRS said.