Fatal Altrincham fire: Woman saw arsonist 'pour petrol'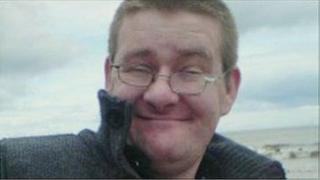 A woman has described the struggle that took place with her mother's boyfriend before he set fire to their home.
Caitlin Van Stratten lost her mother Tracy Jones and brother Shaun Van Stratten, 15, in the fire at Barlow Street, Broadheath, Altrincham in 2011.
Arsonist David Potts, 39, also died from burns in the blaze.
Ms Van Stratten told the inquest in Stockport the family were awoken by a loud bang and found Potts pouring petrol on to the floor of the hallway.
The inquest had already heard Potts threatened Ms Jones and her children after she left him.
Ms Jones' four-year-old son Zachary and Caitlin, who was 18 at the time of the attack, were injured but survived the blaze on 19 September 2011.
'Aggressive attitude'
Ms Van Stratten said when the family were woken and found Potts with the petrol she ran towards him screaming to stop what he was doing while her brother went to find a weapon.
As they grappled with Potts he managed to ignite the petrol with a lighter.
Ms Van Stratten told the inquest she found Potts "creepy" with an "aggressive" attitude to her mother.
The inquest was told Potts was "profoundly upset" when Ms Jones ended their relationship after Trafford Social Services warned her about him in August 2011.
Her mother had tried to get him to hand over the keys to the home but he refused so they changed the locks on the house.
Potts had a long history of mental health problems, substance abuse, alcoholism and self-harming, the inquest has been told.
The inquest is expected to last six weeks.