Barton Moss fracking protesters' eviction on hold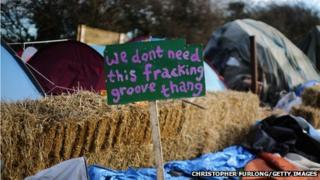 Protesters facing eviction from an anti-fracking camp in Salford will remain on the site while their lawyer prepares a legal challenge.
The landowner at Barton Moss had told a court the camp was causing problems for the public and the police.
But, the judge at Manchester Civil Justice Centre said he had to "balance the legal rights" of both parties.
About 60 people are on the site, where exploratory drilling is taking place. The case was adjourned until 6 March.
Campaigners moved on to Barton Moss Road in November last year.
'Escalating situation'
They fear drilling could lead to the discovery of shale gas leading to a decision to start fracking - or hydraulic fracturing, a method to extract shale gas from rocks using water and chemicals under high pressure.
Lindsay Johnson, acting on behalf of protesters, told the court they should be given more time to contest the eviction on human rights grounds.
Mr Johnson said a protester claimed he had no other home other than the camp and it may be argued eviction would infringe his rights.
Peel Investments' barrister said the situation was causing increasing problems for the public and police, and there were health and safety issues over sanitation at the camp.
Katharine Holland QC said: "Right to peaceful protest does not override my client's right to recover possession of land necessary because of the escalating situation occurring."
After listening to both sides, Judge David Hodge QC adjourned the case as he had to "balance the legal rights" of all parties.
He told the group of around 30 protesters in court, that Peel Investments could pursue them for legal costs if they wanted to be part of proceedings -and lost.
Energy company IGas has permission to build a vertical test well, near the M62 and Barton Aerodrome.
It is exploring potential energy reserves beneath the area.