Lifetime ban for Tyldesley pair after keeping 'feral' dogs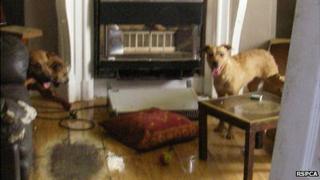 A man and woman have been banned from keeping animals for life after admitting animal cruelty involving 15 dogs in Greater Manchester.
The RSPCA said the dogs were living as an "indoor feral pack" and had developed behavioural issues.
Peter Higgins, 53, and Ann Warren, 38, of Chester Road, Tyldesley both pleaded guilty to two charges of causing unnecessary suffering to the animals.
Both were handed suspended sentences at Wigan and Leigh Magistrates' Court.
'Completely irresponsible'
The RSPCA visited the property in June last year after a call from a member of the public. The charity said Higgins and Warren came out with two dogs and drove off.
After police arrived, one dog had been attacked by other dogs inside the house and later died from its injuries.
Vicki McDonald, RSPCA inspector, said: "The dog that was attacked was a bitch that was in season and should never have been in the vicinity of all of those unneutered males.
"It just goes to show what can happen when people keep dogs in this completely irresponsible way."
The remaining dogs are now in RSPCA care and are expected to be rehomed.