Weapons and drugs seized as 14 held in north west raids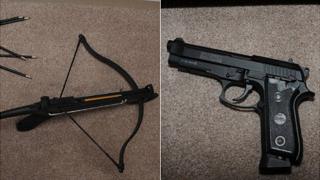 Fourteen people have been arrested and a yacht has been searched in a series of drug and firearms raids carried out by police across the north west.
Twelve men and two women have been held after twelve addresses in south Manchester, Trafford, Cumbria and Cheshire were raided.
Weapons seized include a machine gun, a shotgun and a crossbow. Cannabis factories were found at five locations.
The yacht, moored in Cumbria, was linked to a target in the operation.
About 100 officers were involved in the warrants. Class A drugs and more than £100,000 in cash was also found.
Det Insp Frank Morris called the raids an "an excellent result" which have "taken serious weapons off the streets".