Sean Barrett death: Antony Fogarty jailed over Australia crash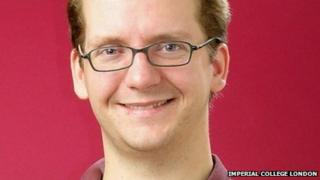 A man has been jailed for 11 years for killing a British scientist and a taxi driver when he crashed into their car while high on drugs in Australia.
Quantum physicist Dr Sean Barrett, 36, of Salford, Greater Manchester, had only been in the country an hour when the collision happened in October 2012.
Antony Fogarty, who was in a stolen car, admitted two counts of manslaughter at Perth's Supreme Court.
He will be eligible for parole in nine years.
The court heard Fogarty had no driving licence and had taken cannabis, methamphetamine and amphetamine when when he smashed into them at Perth Airport.
'Burst into flames'
He had a number of previous convictions and a history of drug addiction.
The court heard police pursued Fogarty for two hours as he drove through red lights at speeds of up to 100mph (161km/h).
The prosecution told the court the impact of the collision killed Mr Barrett and Mr Singh instantly and the taxi burst into flames.
Dr Barrett, who worked at Imperial College London, had flown to Australia to speak at a conference.
In a statement, Dr Barrett's family previously said he was "a brilliant mind, and a brilliant man. He is a loss to science, and to life".
Imperial College London said Dr Barrett was an "outstanding physicist, whose research was furthering science's understanding of quantum physics and quantum computing, and his loss will be greatly felt by the academic community".