Didsbury terror search after Anil Khalil Raoufi's Syria death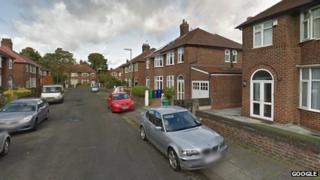 Counter-terrorism police have searched a house in Manchester after a British man was killed in Syria.
Amateur boxer Anil Khalil Raoufi, 20, lived in Brooklawn Drive, Didsbury, but died after travelling to the war zone.
Police are speaking to his family to understand how Mr Raoufi came to be involved in the conflict.
It comes after reports of the death of a second man from Crawley, West Sussex, thought to be the UK's first suicide bomber in Syria.
The home of Abdul Waheed Majid, in Langley Green was searched on Wednesday by counter-terrorism detectives after he reportedly died in the Syrian city of Aleppo.
Anti-terror police raided a second house in Crawley earlier, believed to have been occupied by one of Majid's close friends.
It is thought Mr Raoufi, a Muslim, had travelled to Syria with other men from Manchester.
His family are being supported by police. The BBC understands prayers have been said for him at his local mosque.
'Detained by regime'
Det Ch Insp Will Chatterton, of the North West Counter-Terrorism Unit, said: "Officers are working to assess how people are drawn into travelling to Syria to become involved in conflict and how to prevent others doing the same.
"We know that some have already lost their lives or been detained by the regime and badly treated. It is vital that anyone who has concerns that someone may be considering such travel informs the authorities."
He urged the Muslim community to ensure people were not exploited as part of the Syrian unrest.
"The best way for people to help is to donate to registered charities with ongoing humanitarian operations in Syria and the region", he added.