Horton Mill primary school evacuated in Oldham gas leak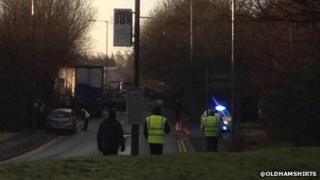 A primary school and nearby homes were evacuated after gas started leaking from a propane tank at a packaging firm in Greater Manchester.
Fire crews were called to Ribble Packaging in Greengate Street, Oldham just before 06:45 GMT.
Residents were allowed back into their homes and roads that had been cordoned off re-opened a few hours later.
Horton Mill Community Primary School in Southlink will remain closed for the day after it was evacuated.
Station manager Phil Nelson said: "As soon as we got to the address, a cordon was put in place and as a precautionary measure a number of local streets have been evacuated.
"We worked with our colleagues from Greater Manchester Police, North West Ambulance Service and Oldham Council to deal with the incident and are now happy for people to go back into their houses and work places."
The school has 240 pupils on its roll, according to its last inspection by education watchdog Ofsted in 2012.