Tracy Shelvey death: IPCC was investigating rape claim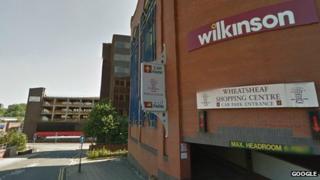 A police watchdog examined how officers dealt with a woman's rape allegation 18 months before she died in a fall, it has emerged.
Tracy Shelvey fell from the roof of Rochdale's Wheatsheaf Shopping Centre on Monday - days after a man accused of raping her was acquitted by a jury.
The Independent Police Complaints Commission said Greater Manchester Police referred the case in 2012.
It involved how an investigation into five alleged sex attacks was conducted.
Greater Manchester Police said it could not comment due to the ongoing IPCC investigation.
Ms Shelvey, 41, from the Rochdale area, gave evidence at two trials in Manchester.
'Reported sexual assaults'
The defendant was acquitted in the first trial of raping four out of seven women but the jury could not decide on whether he raped the other three. A retrial saw him cleared of the remaining charges.
An IPCC spokesman said the watchdog "had received a referral from Greater Manchester Police in July 2012, relating to how an investigation was conducted into five reported sexual assaults in the Rochdale area".
He added: "This investigation is linked to a recent trial in which a defendant was acquitted. As a result of that acquittal we are currently reviewing our terms of reference."
The IPCC is also investigating the death of Ms Shelvey.