Rugby player's death 'a total shock', inquest hears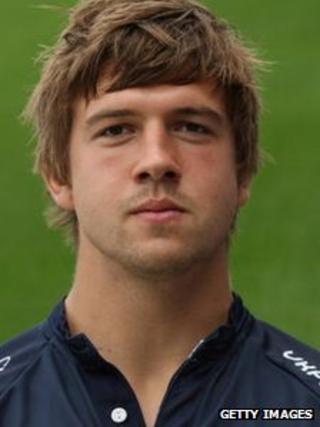 The death of a rugby player who fell from an apartment block was a "total shock", an inquest was told.
Former Sale Sharks back-row forward David Tait, 25, died from multiple injuries following the incident in Hong Kong in December 2012.
Mr Tait was enjoying a "happy, normal life" and worked as a corporate finance adviser for KPMG.
The South Manchester coroner, John Pollard, recorded an open verdict.
On the day of his death he had kissed his girlfriend and left for work in the morning, the Stockport inquest heard.
He told her he was planning to visit a racecourse, but later police called to say he had "fallen from a height" at a hotel in Kowloon and died.
Stockport Coroner's Court was told that his death on 12 December happened a week before he was due to fly home for Christmas to see his family and attend a friend's wedding.
No personal problems
His mother, Diane, told the hearing she last spoke to her son on Skype four days before he died. She said they would regularly talk on Sundays and he had seemed happy.
"I felt flattered because he was watching a very important football game and he left that to talk to me," she said. When informed of his death she said it came as "a total shock" to all of the family.
Her son had no personal problems in his life and was financially secure, she said.
Wythenshawe-born Mr Tait joined Sale Sharks in 2005, after representing England Under-16s, but left the top-flight club in the summer of 2010 because he had been left out the team, the inquest heard.
"He was very unhappy about his treatment at Sale Sharks at the time," Mrs Tait said. But, she added, he did not dwell on it and later moved to Hong Kong with his girlfriend.
He signed a rolling contract with Kowloon Rugby Club where he was appointed captain.
Mr Pollard said he could not be sure whether Mr Tait fell deliberately or accidently and recorded an open verdict.