Factory 251 ceiling collapse: Seven people hurt at club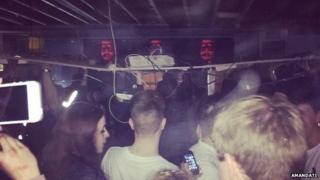 Seven people have been taken to hospital after the ceiling collapsed in a central Manchester nightclub.
Four men and three women suffered "minor" injuries after a second floor ceiling caved in at Factory 251.
Clubbers reported that the plasterboard begun to fall at about 02:30 GMT at the Charles Street venue. An investigation into the collapse has begun.
The club is housed in what was once the headquarters of the well-known record label, Factory Records.
A spokesman for the club said it was "thought a screw head in a piece of plasterboard snapped, causing a large piece of plasterboard to come free in the second floor room".
"The building was evacuated and police and fire crews attended as a precaution."
He said a structural engineer was checking the cause and the club should be open for business "as usual" later.
He added that the club "sincerely apologise for the incident".
"We welcome thousands of music lovers and clubbers every week to this historic building and their safety and enjoyment is of paramount importance to us."