Northern Hub £600m rail work starts at Manchester Airport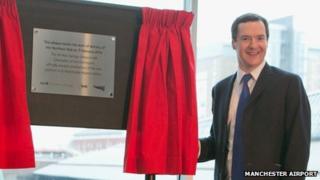 A £600m upgrade to the northern rail network has begun with work on a fourth platform at Manchester Airport.
The £20m airport project is part of the Northern Hub, which aims to electrify lines and improve the network in and around Manchester by 2019.
Northern Hub is expected to increase passenger capacity by 44 million a year and create 20,000 jobs.
Chancellor George Osborne said the hub would "ensure growth is not concentrated in any one place".
Mr Osborne, the Conservative MP for Tatton, said the move was about "keeping Britain connected and creating thousands of local jobs, delivering a brighter economic future for the whole country".
As part of the Northern Hub plans, two new platforms will be built at Manchester Piccadilly and track widening at Oxford Road station will allow longer and more frequent trains.
Increase capacity
A viaduct, called the Ordsall Chord, aims to link Piccadilly, Oxford Road and Victoria stations and enable more trains to travel through Manchester city centre.
Direct services from Bradford, Halifax and Rochdale to Manchester Airport will be introduced.
Under the plans, two extra trains will run an hour between Liverpool and Manchester by December 2016.
It also aims to increase the number of hourly trains between Manchester and Leeds and reduce journey times between the two cities by ten minutes.
It will also mean faster journey times to Sheffield and the East Midlands, Chester, Bradford, Halifax, Hull, Newcastle and the North East.
Manchester Airport's extra platform aims to increase capacity and allow connections for businesses and travellers to the Airport City development.
The enterprise zone will include offices, hotels, manufacturing firms, logistics and warehouses.
Martin Frobisher, area director for Network Rail, said: "The Northern Hub and electrification programme is the biggest investment in the railway in the north of England for a generation and will transform rail travel for millions of passengers every year.
"Providing a faster, more regular and reliable railway between key towns and cities in the north of England provides significant benefits to passengers and helps to boost the economy, making it quicker and easier to travel further for work or pleasure".