Tracy Shelvey fall death: Calls for support review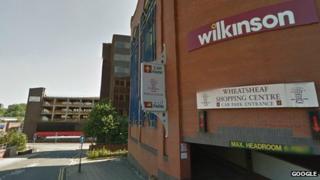 An urgent review is needed of how victims and witnesses in sex abuse cases are treated, Greater Manchester's police and crime commissioner has said.
Tony Lloyd made his comments after Tracy Shelvey fell to her death in Rochdale - days after the man she alleged had raped her was acquitted.
"Witnesses are not where they should be - at the heart of the criminal justice system," he said.
The Ministry of Justice (MoJ) said it is overhauling its Victims' Code.
Ms Shelvey, 41, who was from the Rochdale area, told police she was "angry and upset" at the man's acquittal on Friday following a re-trial, Greater Manchester Police said.
Officers spoke to her while she stood on the roof of the Wheatsheaf Shopping Centre on Monday morning. She died after falling from the building.
Ms Shelvey gave evidence at two trials in Manchester. The defendant was acquitted in the first trial of raping four out of seven women but the jury could not decide on whether he raped the other three.
Last week's retrial saw him cleared of the remaining charges.
Ms Shelvey's family said she was "a kind and caring person", a loyal friend and someone who would be "deeply missed by all".
"We are so proud of Tracy for standing up in court on the two trials," they said. "She was a strong person with a lot of pride."
'Brutal court process'
They said she kept in regular contact with her "loving family" and they thanked her friends for their support.
Her death comes a year after Frances Andrade took her own life after giving evidence against the music teacher who abused her.
Her family said she was let down by the criminal justice system and was forced to relive the many times choir director Michael Brewer had sexually abused her.
"This can't go on - a root and branch review of how victims and witnesses are treated is urgently needed," said Mr Lloyd.
"The court process is a brutal one, and the fact that we have had at least two people in Greater Manchester alone who have taken their lives after going through this ordeal is of grave concern.
"Many, many rape victims say that the court process is as traumatic as their original ordeal," he added.
'Sparing vulnerable witnesses'
Mr Lloyd said witnesses and alleged victims needed support regardless of the outcome of a trial.
Last year, Stockport Labour MP Ann Coffey said the Frances Andrade case proved vulnerable witnesses were being failed and called for a different court system to avoid "brow-beating" witnesses.
The MoJ, which said it sympathised with Ms Shelvey's family, said there are already numerous special measures to help vulnerable witnesses such as using screens or video link but it added, "we know sometimes more could be done."
It added: "That is why we are trialling an important new way of sparing vulnerable witnesses the trauma of appearing in court through pre-trial cross examination. We have also overhauled the Victims' Code so people know what to expect and who to demand help from every step of the way."
The Independent Police Complaints Commission (IPCC) is investigating the death in Rochdale.