William Roache trial: Jury retires to consider verdict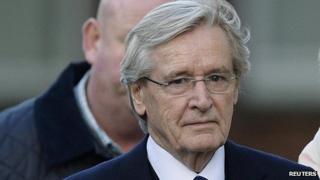 The jury in the trial of Coronation Street actor William Roache has been sent out to consider its verdicts.
Mr Roache, 81, of Wilmslow, Cheshire, denies two rapes and four indecent assaults against five women.
The assaults are alleged to have happened between 1965 and 1971 with girls aged 16 or under.
He was cleared of a further count of indecent assault on judge Timothy Holroyde's direction during the trial at Preston Crown Court.
The jury has been told not to be "daunted" by the "obvious seriousness" of the case.
Mr Justice Holroyde told jurors there was "a head-on conflict of evidence which you will have to resolve".
Mr Roache is alleged to have indecently assaulted girls in the toilets and dressing rooms at Granada Studios in Manchester, as well as in his car.
One woman alleges he raped her twice at his homes in Haslingden, Lancashire, on separate occasions.
A fifth charge of indecent assault was dropped due to insufficient evidence after the woman, who accused him of abusing her in his car, told the court she had "no actual memory" of the episode.
Mr Roache still faces the second allegation by the same woman - that he assaulted her in the male toilets at the studio building earlier the same year.
Jurors were previously shown a letter and signed photograph Mr Roache sent to her after the alleged incident, in which he asked to her write back to him when she returned to school.
This amounted to "a sort of grooming", prosecutor Anne Whyte QC told the court.
'Perverse witch-hunt'
The jury was also shown a TV interview that prompted one of his alleged victims to contact police. In it, Mr Roache appeared to suggest that victims of sex abuse were paying the price for their actions "in previous lives".
Several Coronation Street cast members were called as character witnesses during the three-week trial.
Anne Kirkbride, who plays Deirdre Barlow, described him as "lovely", Chris Gascoyne - who plays his son - said he was "decent and kind", while Helen Worth, who plays neighbour Gail McIntyre, said he was "caring".
After his arrest on 1 May, Mr Roache told police he had "taken the opportunity to sleep with many women but this had always been with their consent".
He added that "he had never sought out girls under the age of 16 because such girls did not interest him sexually", the court heard.
The prosecution told the court the actor used his fame to exploit young girls and is now either "sticking to his script" in lying, or the victim of a "huge, distorted and perverse witch-hunt" if he is telling the truth.