William Roache jury told not to be 'overawed'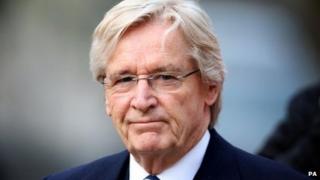 A judge has told the jury at the trial of Coronation Street actor William Roache they should not be "overawed".
Mr Roache, 81, of Wilmslow, Cheshire, denies two rapes and four sexual assaults at Preston Crown Court against five girls between 1965 and 1971.
The alleged sexual assaults are said to have taken place in the toilets and dressing rooms at Granada Studios, Manchester and the actor's car.
One woman alleged he raped her twice at his homes in Haslingden, Lancashire.
Judge Timothy Holroyde told the jury there was "a head-on conflict of evidence which you will have to resolve".
The judge said: "The seriousness of the case is obvious but the reality is that jurors up and down the country have to, and do, decide serious cases, so do not be daunted by your task."
He told jurors not to rely on any assumptions they may have made about sex offence cases.
"It is the court's experience that there is no stereotype of a sexual offender or a victim of sexual offence or how a victim of a sexual offence behaves," Mr Holroyde added.
'Cool-headed appraisal'
The judge said: "It would be wrong for you to assume that a victim of a sexual offence would necessarily report it at the first opportunity or necessarily remember every detail of it for the rest of her life.
"The simple reality is that sexual offences can be committed in all kinds of circumstances, by and against all kinds of people."
Mr Holroyde also told jurors: "Emotions must play no part in your decisions. It would only distract from your solemn duty in accordance with the oath or affirmation you made at the start of the trial to return true verdicts according to the evidence.
"What is needed is a cool-headed appraisal of the evidence you have heard," said the judge.
He added: "So concentrate on those aspects of the evidence which you think are important to your verdict."
The case was adjourned until 11:30 GMT on Tuesday, when Mr Holroyde will resume summing up before the jury is sent out to begin its deliberations.