School governor regrets taking family on term-time holiday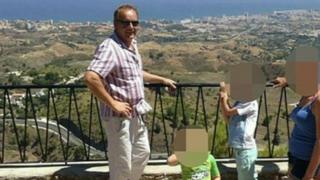 A school governor prosecuted for taking a family holiday in Spain during term time said he now regrets his decision.
Paul Lawton took his teenage daughter out of Macclesfield Academy in Cheshire, where he sits on the governing body, between 9 and 22 July.
Mr Lawton said he had wanted to "build memories" for his children while they were young.
The school said absence was only allowed in "exceptional circumstances" which did not include family holidays.
'Without fear or favour'
Mr Lawton and his wife Emma were both fined £190 by Macclesfield magistrates for failing to pay £60 fines issued for taking his child out of school.
The 42-year-old said he became a governor in May months after he had booked the holiday.
The agricultural contractor said he is too busy in the summer to take time off and when prices of holidays were "horrendous".
He said he got permission to take his four other children away but Macclesfield Academy would not authorise leave for his 13-year-old daughter.
Head teacher Richard Hedge said: "Permission to be absent is granted only in exceptional circumstances. These do not normally include family holidays which, if taken in term time, are almost always regarded as unauthorised absences."
He said if pupils have unauthorised leave of more than five days it "routinely requests" Cheshire East Council to issue a fixed penalty notice.
"We do this without fear or favour and would not make special allowance for a governor or for anybody else."
He said Mr Lawton has worked hard for the school and his future as a governor was "a matter for him and for the governing body".
Gail Isherwood, prosecuting for Cheshire East Council, said the school requested a fixed penalty notice on 4 September which was issued to Mr and Mrs Lawton on 9 October and was not paid.