William Roache trial: Coronation Street actor 'never met' accusers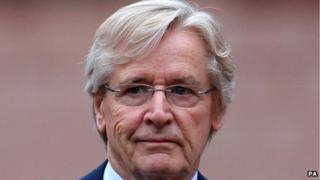 Coronation Street actor William Roache has told a court he has no memory of ever meeting any of the women accusing him of sexual offences.
The 81-year-old, of Wilmslow, Cheshire, denies two rapes and four indecent assaults against five women aged 16 or under between 1965 and 1971.
He was cleared of one indecent assault on the judge's direction on Monday.
Asked if he had ever been "in the company of" the women, he told Preston Crown Court "no, not one of them".
Some of the offences of which Mr Roache is accused relate to alleged indecent assaults against teenage girls in both the men's and women's toilets and the dressing rooms at Granada Studios in Manchester.
Dressing room denial
Mr Roache said he had "definitely not" taken a girl into the toilets, adding that "it wasn't in my nature to do that sort of thing and those toilets were in very frequent use".
He also said he had not taken two girls into his dressing room.
The actor, who has also been accused of indecently assaulting a girl in his car, added that he "never gave anyone a lift in my car other than people I knew".
Asked by Louise Blackwell QC, defending, if he had "ever had a sexual interest in girls aged under 16?", he replied "no, absolutely not".
The barrister went on to ask Mr Roache about an alleged rape of a girl at his cottage in Haslingden, Lancashire.
The actor said it had "absolutely not" happened and that it was "totally against my nature to harm anybody in any way whatsoever".
Responding to a question about his marriages, Mr Roache told the court he had a series of "small relationships" during his first marriage, to fellow actor Anna Cropper, but added he was "absolutely faithful" to his second wife Sara Mottram, who died in 2009.
On the subject of religion, Mr Roache said he "loosely" conformed to the Church of England, though he had "a greater understanding of spiritual matters, but I don't belong to any cult, philosophy or religion".
Autograph hunters
The jury was previously shown footage of a TV interview in which Mr Roache appeared to suggest that victims of sex abuse were paying the price for their actions "in previous lives".
Mr Roache said he had been "misunderstood".
When asked about his beliefs on reincarnation, Mr Roache said: "Trying to find the truth when you are moving in the metaphysical is not easy.
"I have a knowing, a knowing voice I know to be correct, by which I live."
Ms Blackwell asked Mr Roache about his life and how he came to be in Coronation Street.
Mr Roache, who was born in Ilkeston, Derbyshire, said he had left his post as a captain in the Royal Welsh Fusiliers in 1956 with a "burning" desire to be an actor, as his mother had been a keen actress.
He said he had been spotted by Coronation Street's creator Tony Warren and told the jury that as it became obvious the show was taking off, he had bought a cottage in Rawtenstall, Lancashire.
He added that before he bought the home, his social life with his first wife was in London where they lived when he was not filming the "kitchen sink drama". He later bought two more cottages in Lancashire and a plot of land to build a house.
Recalling his early days filming the soap at the Granada Studios in Manchester, he said he had no close friends among the cast.
He went on to say that taking people on set was "an extremely difficult and dangerous thing to do".
"Any noise or cough and a recording could be gone.
"Occasionally, very close family, my children [were allowed]. You had to get permission. You had to have a reason."
He said that when he was working, he "didn't want anybody in the dressing room".
"I needed to concentrate totally on lines and focus on what I needed to do."
The actor added he would always stop for autograph hunters outside the studios and that "the fans would know what time we'd arrive and be waiting there".
The trial continues.