William Roache acquitted of one of seven abuse charges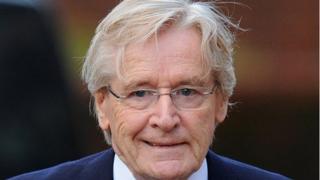 Coronation Street star William Roache has been cleared of one of seven sex abuse charges at his trial, on orders of the judge.
Jurors at Preston Crown Court were directed to acquit Mr Roache of the indecent assault charge because of insufficient evidence.
Mr Roache, from Wilmslow, Cheshire, is still on trial over two rape and four indecent assault allegations.
He denies the charges, which relate to incidents between 1965 and 1971.
The offences are alleged to have involved five women aged 16 and under.
'No actual memory'
The allegation the jury were directed to find Mr Roache not guilty of, was one of two made by a woman who said she was 14 when the defendant twice made her perform a sexual act in his car in 1965.
The court heard she was picked up by the actor from the Granada Studios in his car and thought she had been indecently assaulted but had "no actual memory" of the episode.
Judge Mr Justice Holroyde told the jury: "In relation to that episode, the witness was not giving evidence that it did happen, she was giving evidence that she was thinking it did happen and that is not a sufficient evidential basis for the conviction of an offence."
"Mr Roache is entitled to a not guilty verdict on that charge."
Anne Whyte QC, prosecuting, told the jury: "We do not invite you to convict on any allegation where the witness has no recollection."
Signed photograph
A juror entered a not guilty verdict on the charge when asked by the clerk.
Mr Roache still faces the second allegation by the same woman, that he assaulted her in the male toilets at Granada Studios in Manchester, earlier the same year.
Jurors were previously shown a letter and signed photograph Mr Roache sent to her after the alleged incident, in which he asked to her write back to him when she returned to school.
The defence is due to start on Tuesday and Mr Roache is expected to give evidence.