Arsonist Dave Potts 'had threatened to kill before'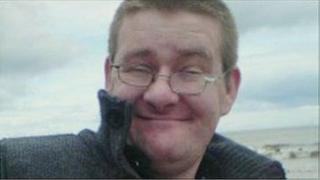 A man who started a fire that killed his former partner and her 15-year-old son had threatened to set fire to himself a month before, a report found.
A serious case review criticised health officials and police for inaction before Dave Potts caused the blaze at Tracy Jones's Altrincham home.
The review said it was not possible to say whether the incident could have been prevented.
Potts also died from burns shortly after the blaze on 19 September 2011.
Ms Jones's 18-year-old daughter, Caitlin, who survived, said Potts "doused the stairs" with petrol as they screamed at him to stop.
Her son Shaun, who died in the blaze, tried to attack Potts with a hammer, the report said.
Zachary, Ms Jones's four-year-old son, was rescued by firefighters.
'Mood to kill'
The review said in August 2011, Potts had indicated his intention to set fire to himself and harm police officers. He also refused surgery after a heart attack.
Mental health services in Manchester "failed to grasp the seriousness of the situation" and no one service took responsibility for ensuring the oversight of Potts.
In July 2010, Potts spoke to a mental health nurse and said he was "in the mood to injure or kill someone", before hanging up.
The nurse reported it to police and referred similar threats directed towards his three-year-old daughter the previous year.
Greater Manchester Police did not review the number or nature of threats by Potts.
"There was a tendency to downplay the seriousness of incidents and not complete effective risk assessments," the review said.
There had been an "insufficient response" from mental health clinicians assessing the risk of harm from Potts, who had been diagnosed with a personality disorder.
The review concluded: "It is not possible to state categorically that if agencies had taken action the incident would not have happened.
However, if different decisions had been made or different action taken, it might have led to a different outcome."
Manchester Mental Health and Social Care Trust said the trust has "worked hard to follow up and implement the actions recommended to reduce the chances of a similar tragedy occurring".
Trafford Safeguarding Children Board chairman Bob Postlethwaite and Ch Supt Mark Roberts said they acknowledge the issues identified in the report "and all the agencies involved have worked hard to follow up on the recommended actions".