Manchester gay cruising canal site safety fears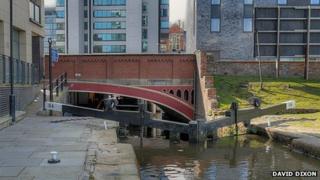 Safety measures will be considered for a gay cruising area near a canal in Manchester city centre after a man died when he fell into the water.
Police, Manchester City Council and Manchester and Pennine Waterways are considering gating off the Dale Street area known as the Undercroft.
It was prompted by the death of a man on Tuesday who had been involved in an assault on the Rochdale Canal.
The Lesbian and Gay Foundation says closing off the area is not a solution.
Stefanie Hartley, community safety office for the group, said: "It's a well established cruising area, it has been for many years.
"Obviously there's a risk that people are going down there to engage in sex and sex acts and they are being exploited and attacked in other ways.
"By closing off that area and gating it off completely, I would worry those activities are just going to move elsewhere."
'Army of police'
A man who was beaten and allegedly subjected to homophobic abuse warned gay people not to use that area.
Tony, who would not give his full name, said: "Gay men like me who frequent the area should stop using it.
"People are aware of what goes on down there but people take no notice. You could send an army of police down there, it will not stop them."
This year, there have been two deaths in canals in the city centre. This follows three fatalities in 2013 around the same area, police said.
Inspector Phil Spurgeon, from the Gay Village neighbourhood policing team, said: "The reality is when you have a busy city, a vibrant night time economy, you have 500 licensed premises in 2.2 square miles, you put a big canal system through the middle of that and you are going to end up with some fatalities, which is dreadful."
David Baldacchino, of Manchester and Pennine Waterways, added: "I look after over 200 miles of the canals and most of that has a pretty good safety record.
"There is this one area in Manchester which is earning a reputation, which is not what we would want."