Manchester United fan calls 999 asking for Alex Ferguson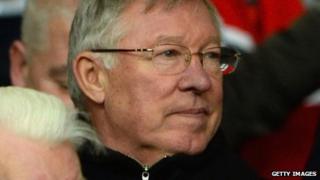 A drunk Manchester United fan called 999 "demanding" to speak to Sir Alex Ferguson after the club's defeat.
Greater Manchester Police (GMP) were called at 22:30 GMT on Wednesday by a man from Crumpsall after the team lost to Sunderland in the Capital One Cup.
GMP said it "can be sad and depressing" when a football team loses a game but asked the public to "remember that 999 is to be used for emergencies only".
The force suggested contacting the club to speak to the former manager.
Manchester United lost 2-1 on penalties in the semi-final of the competition at Old Trafford under new manager David Moyes.
The man opened the call by asking to speak to Mr Ferguson before telling the call handler: "The result is all wrong, they had extra time and it was a total and utter load of rubbish."
After being asked if he needed to report a crime, the caller replied: "Yes, a crime. I want to report a crime. The crime is that Manchester United were absolutely knackered."
Towards the end of the call the man asked if the force could call him back.
'Try ringing Man United'
On GMP North Manchester's Facebook page, the force said: "A man from the Crumpsall area of North Manchester rang 999 in a drunken state demanding to speak to Sir Alex Ferguson about last night's result.
"Obviously, it can be a sad and depressing moment when your football team loses a game, however, can we all please remember that 999 is to be used for emergencies only.
"If you would like to speak to Sir Alex about recent football results we here at GMP Manchester North can only suggest you try ringing Manchester United FC directly as you will probably (not definitely) have a much better chance of getting through to him there rather than ringing the police," the statement added.
Diane Grandidge, GMP's business lead for call handling, said: "Silly calls like this one are thoughtless and can make a difference in a life and death situation.
"You wouldn't want your own emergency call being delayed by someone tying up a line with a hoax."
The force said the caller has been warned about inappropriate use of the 999 service, but would not face further action.