Khuram Shaikh death: Politician arrest over Sri Lanka killing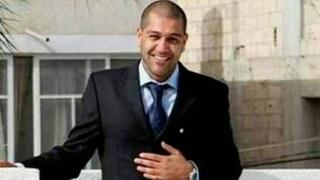 A Sri Lankan politician charged with murdering a British aid worker has been arrested by police two weeks after jumping bail.
Sampath Vidanapathirana, a town council leader, was remanded in custody after appearing at the High Court in Colombo.
He is one of six men accused of the murder of Khuram Shaikh and gang-rape of a woman. All plead not guilty.
The Red Cross worker was shot and stabbed to death at a hotel in southern Sri Lanka on Christmas Day 2011.
Mr Vidanapathirana has been held until the end of the trial which starts in March.
He had gone missing earlier this month after his lawyers said he was getting hospital treatment, but the judge cast doubt on the documents supplied by his legal team.
After several months of detention, he was released on bail in November 2012 and resumed his work as a town council leader in Tangalle, the beach resort town in Sri Lanka where Mr Shaikh was killed.
Mr Shaikh, 32, had been working in Gaza fitting prosthetic limbs, but was on holiday in the resort.
He had been trying to break up a fight in the hotel bar when he was killed.