Trams in Manchester delayed after car on tracks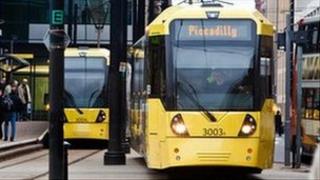 Trams between Ashton-under-Lyne and Manchester were delayed after a car was driven on the tracks and became stuck.
Police were called to Holt Town Metrolink station at 14:30 GMT on Sunday after reports that a vehicle was stuck on the tracks.
They found a 78-year-old driver had driven a Jaguar onto the tracks.
A spokesman said there would be delays to services as a result. The driver was reportedly uninjured and the car was removed by 16:45 GMT.