Rio Smedley: Toddler's death "could not have been predicted"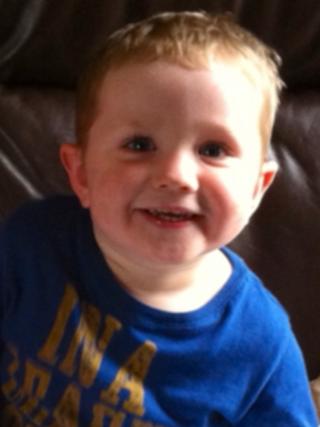 The death of a toddler killed by his mother's boyfriend in a "sustained and violent attack" could not have been predicted, a review has found.
Daniel Rigby was jailed for life for the murder of Rio Smedley, aged two, from Breightmet, Bolton, in April 2012.
Rio's mother Kirsty Smedley was also found guilty of allowing or causing the death of a child.
A serious case review found some opportunities were missed but there was no evidence Rio was at risk of harm.
The review, commissioned by the Bolton Safeguarding Children Board, found that Rio - referred to as child J - and his family had contact with a range of services during his life.
Liver ruptured
It found that four referrals were made by different agencies to children's social workers during his life, none of which necessitated child protection.
There was a series of complaints about anti-social behaviour in and around Kirsty Smedley's home, the review found.
A referral was made to social workers following a fire when Rio was six-weeks-old and being cared for by "unacceptably young babysitters".
A further referral was made about a potential risk of domestic abuse from Smedley's previous partner.
Rio died of 91 separate injuries on his body likely to have been caused by "heavy blows" from "punches, kicks, knees and stamping," a jury at Manchester crown court was told. He died in hospital after his liver ruptured.
The review concluded: "A clear conclusion has been reached by the Serious Case Review panel and the independent author of this review that Child J's death could not have been predicted and would have been very difficult to prevent."
'Shadowy unknown males'
The review found that professionals were concerned about delayed speech in both of Smedley's children and there was "some evidence of lack of adequate food and warmth in the home and inattention to safety".
A significant proportion of missed appointments with all professionals was also noted along with "shadowy unknown males in the background". The services had no knowledge of Smedley's boyfriend "until a matter of weeks before" Rio's death.
The review made a number of recommendations for improving the sharing of information and communication between agencies and the way in which they record information.
Mike Tarver, chair of Bolton Safeguarding Children Board, said: "We welcome the review panel's recommendations and have developed a comprehensive action plan." He said the plan would be reviewed regularly.
Margaret Asquith, director of adult and children's services at Bolton Council said: "We have already taken steps to implement the recommendations to improve where we can, safeguarding of children in Bolton."