Funeral of Labour MP Paul Goggins, who died aged 60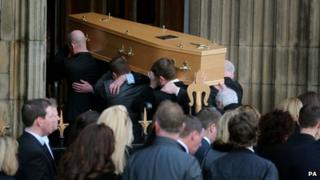 The funeral has taken place of Labour MP Paul Goggins, who died aged 60 after he collapsed while out running.
Mr Goggins, who represented Wythenshawe and Sale East in Greater Manchester, was out with his son when he fell ill on 30 December. He died on 7 January.
The former Northern Ireland and Home Office minister was elected in 1997.
Labour leader Ed Miliband joined more than 1,000 mourners at St John's Roman Catholic Cathedral in Salford, along with MPs of all parties.
Andy Burnham, Labour MP for Leigh and shadow health secretary, said Mr Goggins had been a "mentor".
"Every time I had a problem when I was first elected, I would call Paul Goggins."
Also attending were Commons Speaker John Bercow and his Labour colleagues shadow chancellor and Morley and Outwood MP Ed Balls, Don Valley MP Caroline Flint and Liverpool Walton MP Steve Rotheram.
Conservative MP for Altrincham and Sale West Graham Brady, Sir Malcolm Rifkind, former Liberal Democrat leader Sir Menzies Campbell and his party colleague John Leech, MP for Manchester Withington, also attended.
Mr Miliband described Mr Goggings as "a family man, a man of deep faith and one of the kindest, most decent people I have ever had the privilege of meeting".
Mr Goggins, a father of three who once studied for the Roman Catholic priesthood, was director of the Church Action on Poverty campaign group before becoming an MP. He also served as a councillor in Salford.
Born in Manchester, he trained as a social worker before running a children's home.
Since 2010 he had been a member of the Intelligence and Security Committee, overseeing the work of the UK's spies.
Mr Goggins also co-founded the all party parliamentary group Friends of Cafod (Catholic Agency for Overseas Development) and was an unpaid board member at the Catholic international aid agency between 1998 and 2003.