Zebra crossing where a 12-year-old girl died to be improved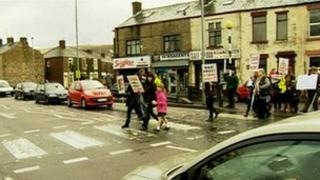 A zebra crossing in Oldham where a 12-year-old girl died is to undergo 'significant improvements' by the council.
Annalise Holt was crossing Milnrow Road in Shaw with a friend last December when she was hit by a van and died. Her friend was seriously injured.
Thousands of people signed a petition calling for changes to the crossing.
Oldham council has pledged a "significant upgrade" to the junction and crossing.
'Right and proper'
The authority said it "takes its responsibilities to keep roads safe extremely seriously".
Councillor Dave Hibbert said: "It's only right and proper that we undertake a thorough review of the crossing in Shaw following the tragic death of Annalise Holt.
"I want to make it clear that we are minded to making significant upgrades to both this crossing and the junction."
A borough-wide review of crossings is underway and will be completed by March, he added.
Once a final design is prepared for a new scheme it will be shared with the public and subject to consultation.