Anti-fracking protest march staged at Barton Moss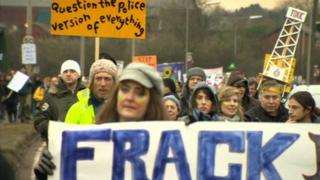 Hundreds of anti-fracking campaigners staged a march through Salford in protest at plans for exploratory drilling at Barton Moss.
Energy company IGas has permission to build a vertical test well at the site in Barton Moss, between Barton Aerodrome and the M62 motorway.
Police said about 500 people took part in a "solidarity" march with residents of a protest camp set up at the site.
Some protesters estimated the figure was about 1,000.
IGas has said it plans "exploratory drilling" only.
But campaigners fear the process could lead to the discovery of shale gas and future fracking to extract it.
'Strongly opposed'
A spokesman for Frack Free Greater Manchester, which organised the march, said: "We are wanting to help demonstrate that the fight against exploratory drilling at Barton Moss, which is a precursor to a potential double whammy of fracking for shale gas and the extraction of coal bed methane by IGas, is strongly opposed."
The march started at the Salford City Reds' Stadium in Eccles, progressing along the A57 to the junction of Barton Moss Road and Liverpool Road, Barton, where a rally with speakers and live music was held.
The protesters then marched to the drilling site and back to the stadium.
A similar protest was held at the site in December and the previous month four people were arrested in a two-day attempt to block the access road for IGas lorries.
Earlier in January police searched the protest camp, which was set up in November, as they believed a flare was fired at the force helicopter.
Protesters denied any flare was fired from the camp.
Earlier this year, IGas said there could be up to 170 trillion cubic feet (4,810 cubic km) of gas in the areas of northern England it is licensed to explore,