Withington Baths: Swimmers bid to take on threatened pool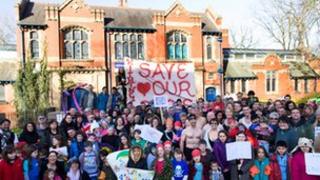 Almost 2,000 people have backed a group hoping to take over the running of a South Manchester council-run swimming pool earmarked for closure.
Withington Baths is to close along with pools in Miles Platting, Broadway and Levenshulme in 2015, when a new facility opens at Hough End.
The council said the closures will save £80m from its budget.
Love Withington Baths group has almost 2,000 Facebook followers and aims to raise money to keep the baths open.
Hundreds of people protested over initial plans to close the baths in 2013, winning a two-year reprieve.
Group spokeswoman Sian Astley said: "There are a lot of people that prefer a small intimate local pool they can walk to that's less expensive and where they know everybody."
The council said it will "gauge the viability" of plans for the baths submitted by the group.
Ms Astley said plans could involve the 100-year-old building's restoration and involve applying for grants running into millions of pounds.