Fraudster Rizwan Butt jailed for £625K investment scam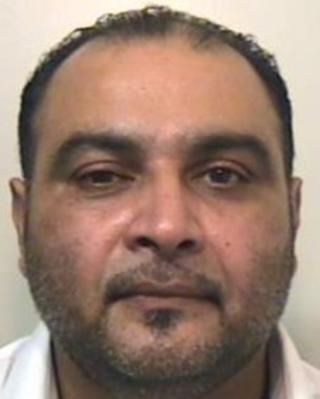 A man who duped the chief executive of a European investment company out of £625,000 has been jailed.
Rizwan Butt, 45, from Denton in Greater Manchester, was sentenced to three-and-a-half years at Manchester Crown Court.
In September 2012, he persuaded the businesswoman to transfer the money to a company account with £657 net assets.
The cleaning company was registered to a house he shares with his mother. Butt, of Manchester Road, was convicted of fraud by false representation.
In August 2012, Butt attended a meeting with the company directors of the European investment company who were seeking investors.
'Convincing portrayal'
Butt "impressed" them apparent knowledge of investments, global economic affairs and sovereign wealth fund opportunities in the Middle East, police said.
He had another meeting at the Dorchester Hotel in London then invited the chief executive to lunch at the Ritz hotel the following day.
On 17 August 2012, Butt said that he wanted to introduce investors from Abu Dhabi and Saudi Arabia, who had $1.5bn.
He claimed Middle-Eastern investors wanted a security deposit of $1m (£625,000) to prove the investment company was legitimate and had significant funds at their disposal.
Butt asked for the money to be transferred to his company account, Horizon Solution UK Limited, and said it would be returned in full within two working days.
Butt did not return the funds. Executives at the investment company launched an investigation into Horizon Solutions UK Limited and discovered it was a cleaning company in Manchester, with net assets of £657.
PC Jane McHale said: "He lived in a modest home and had a registered company with minimal assets, but played the role of a man with international business connections worth billions of pounds with apparent ease.
"So convincing was his portrayal, that he was able to dupe a number of highly successful and experienced business people out of huge sums."