How Greater Manchester's eruv has changed life for Jews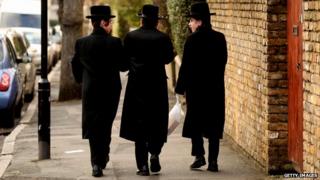 Thousands of observant Jews in Greater Manchester are now carrying out activities on the Sabbath - their holy day - thanks to the establishment of a symbolic border called an eruv. So why is it significant?
Adele Ross's five-year-old son has autism and wears a rucksack to cope with sensory problems caused by the condition.
But until the eruv was established he could not wear it to synagogue on Saturdays because Jewish law forbids worshippers from carrying anything outside the house on the Sabbath.
She says she got a "strange look" from her son's occupational therapist when she told them the good news, but accepts the restriction "must sound strange to outsiders".
Observant Jews are prohibited from pushing or carrying everyday items between sundown on Fridays and sundown on Saturdays.
This includes pushchairs, wheelchairs, zimmer frames, house keys or mobile phones - making living an ordinary modern life very difficult.
The introduction of the eruv - which creates a zone moderating Sabbath rules - has been life-changing, according to Mrs Ross.
She said: "It has transformed going to the synagogue, this has made a huge, huge difference to so many people in our community."
Her husband Jeremy said their eldest son, aged 11, who has attention deficit hyperactivity disorder (ADHD), can now take "fidget toys" to prevent him "behaving inappropriately" at the synagogue.
The Greater Manchester eruv is the latest of more than 200 to be formed in the world.
To be accepted it must satisfy strict laws, including being "completely enclosed" by existing natural boundaries or by wires from the tops of poles.
The first eruv was set up more than 3,000 years ago, according to Jewish tradition, by King Solomon within the walls of the city of Jerusalem.
In contrast, the Greater Manchester eruv - the largest in the UK - is a 13-mile perimeter constructed of garden walls, part of the Metrolink, and, in places where there is a gap, wire strung over the top of 8ft (2.4m) high poles.
What was hailed as the UK's first eruv opened in north London 11 years ago and there are currently four in the capital.
But Manchester's first eruv was actually established 110 years ago. It was founded by Rabbi Abraham Yudelovitch, a Russian emigre, not far from Manchester Victoria Station where thousands of eastern European Jews had arrived, fleeing pogroms.
It lasted four years until he departed to New York to take over the celebrated Eldridge Street synagogue on Manhattan's Lower East Side.
"Nobody kept it going and it wasn't until the 1960s and 1970s that attempts were made to try again," said Dr Yaakov Wise, of the University of Manchester's Centre for Jewish Studies.
So far it has cost about £350,000 to construct the eruv in Greater Manchester.
Rabbi Yahuda Brodie, chief executive of Manchester's Beth Din, or Orthodox Jewish court, said the process had been very complex.
The project needed planning permission from three different councils - Bury, Manchester and Salford - and a lot of work was needed to survey the area and create a border in line with Jewish law.
To cite one example, the eruv cannot cross any road used by more than 600,000 people - hence the eruv did not cross the M60 north of Prestwich.
"There has been a lot of goodwill and understanding from churches and other organisations such as Metrolink. It has been an exercise in inter-faith relationships," he said.
Jacob Cope, who was involved in setting up the eruv, said it was established to preserve and enhance the Sabbath as a day for prayer, the family and relaxation.
"We have one elderly man in our synagogue who is a Holocaust survivor who comes hell or high water as he remembers the days when he couldn't practice his faith," he said.
"This will make it easier for him."