UK's 'largest eruv' opens for Jewish community in Greater Manchester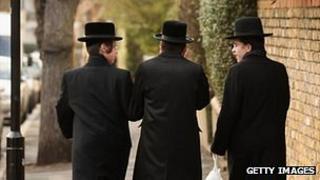 The "UK's largest eruv" has become operational for the Jewish community in Greater Manchester.
The Manchester Community Eruv has a perimeter of more than 13 miles and covers parts of Prestwich, Crumpsall and Higher Broughton.
An eruv is a symbolic boundary that allows orthodox religious Jews to carry or push certain items outside of their homes on the Sabbath.
Planning of the eruv, which has taken 10 years, has cost £350,000.
Under Jewish law (Torah), it is forbidden to carry everyday items such as reading glasses or house keys or push a wheelchair or pushchair between sundown on Friday and sundown on Saturday.
These are allowed within an eruv although carrying money or a mobile phone or going to shops, the cinema or taking part in sport are still prohibited.
'Major difference'
Organisers said the Manchester eruv is "the largest in the country" and will enhance the observance of Shabbat, the Jewish day of rest.
"It is going to make a major difference to the life of very many people including people wheeling children," said Rabbi Yahuda Brodie, chief executive of the Manchester Beth Din.
"Mothers with young children for example find it very difficult to get out of the home on Sabbath days and attend synagogue."
The eruv must be "completely enclosed" by existing natural boundaries such as garden walls, fences and Metrolink lines as well as sections of thin wire connecting poles along the perimeter.
The perimeter of the eruv will be inspected every Friday to ensure that it is intact.
The Jewish population of Greater Manchester is about 24,000 - the largest in the UK outside London.