Unison anger at Salford City Council's new £150k job after cuts plan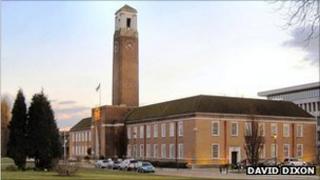 Unions have condemned plans for a new £150,000-a-year council post after Salford said it had been "forced" to slash care services.
On Tuesday, the council announced "heartbreaking" cuts and 300 job losses to save £25m from its 2014/15 budget.
Unison said it was "disgusted" the council's plan to appoint a manager were announced on the same day as cuts.
A Salford City Council spokeswoman said the timing was "unfortunate" but the proposal would still save money.
'Strong leadership'
The council said the two posts of head of paid service and chief of staff would be combined.
It said the salary would be less than the chief executive's £175,000-a-year-post that was scrapped after the previous incumbent Barbara Spicer left.
But Steven North, Unison Salford Branch Secretary, said: "We're disgusted with this new post which was buried in a 300-page document published after these cuts had been announced."
He claims the council had planned to appoint a manager on £60,000 to £70,000 a year.
The council said the joint role was vital for "strong leadership" so it can "survive" the next three years of budget cuts.
The council spokeswoman said: "We face £80m cuts over the next three years and the biggest transformation in our history.
"If we are to survive, we need a strong leadership team to support the elected city mayor."
The proposals will be discussed at a council meeting on 15 January.
'Not apologising'
The spokeswoman added: "By combining them in one role, we will have a stronger focus, whilst still saving money on the previous £175,000-a-year chief executive role, which we have already scrapped.
"The timing of this proposal is unfortunate, but we are not apologising for the decision - Salford needs a strong, high-quality leadership team to weather the storm of cuts."
Unions plan to protest at the meeting where the proposals for the new role will be discussed.
Labour Mayor Ian Stewart announced the proposed budget on Tuesday. He claimed "horrific" and "heartbreaking" cuts had been "forced" by a lower government settlement.
Measures include closing a children's home, reducing respite care, and cutting cash help to the "neediest local people".
The council said there would be no need for compulsory job losses with the posts going through voluntary redundancy or early retirement.