Salford child and adult service budget cuts 'horrific'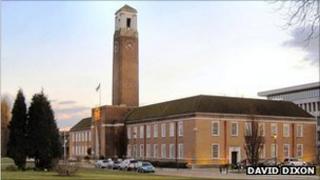 Proposed cuts to care services for children and adults in Salford have been dubbed "horrific" and "heartbreaking" by the city's mayor.
Care services face being cut by almost 10% as the city council looks to slash £25m in 2014/15.
Up to 300 jobs will go as part of the authority's cost-cutting plans.
Salford's Labour Mayor Ian Stewart claims the cuts have been "forced" by a lower government settlement. He is to meet with local MPs next week.
Measures include closing a children's home, reducing respite care, and cutting cash help to the "neediest local people".
Full details are being shared with all council staff, trade unions and the city council's partner organisations.
The council said there would be no need for compulsory job losses with the posts going through voluntary redundancy or early retirement.
'Untold damage'
Among the departments chosen for major budget reductions are children's services which will lose £5.6m - nearly 10% of its spending - and adult services which faces a similar percentage reduction with £4.7m lopped off its budget.
The full package of cuts, drawn up by Mr Stewart and his cabinet over the past six weeks, will see services scrapped, others shared and some "dramatically reorganised".
"After three years of austerity, we are being forced to cut into the bone in order to set a legal budget," said Mr Stewart.
"This is not about 'efficiencies' or 'rationalisations' anymore. These cuts will cause untold damage to the services we provide," he said.
Mr Stewart is to meet with the city's three MPs next week to plan a delegation to Parliament to demand a "fairer deal" for Salford.