Chetham's abuse inquiry: Teacher could face extradition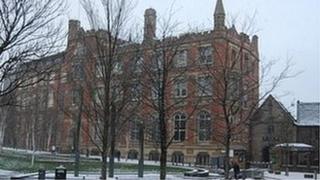 A former violin teacher wanted over historical sex abuse allegations at a music school, may be extradited from the US, police have revealed.
Detectives have passed a file on 56-year-old Chris Ling to the Crown Prosecution Service Police.
Police are investigating claims by more than 30 women that they were abused at Chetham's School of Music and the Royal Northern College of Music.
Mr Ling, who moved to Los Angeles in the 1990s.
He has refused to comment when asked to do so by reporters at his home.
Four other former teachers have previously been arrested and bailed.
A Greater Manchester Police spokesman said: "A file of evidence has been compiled and submitted to the Crown Prosecution Service (CPS) in relation to complaints against Chris Ling.
"Mr Ling has been invited to be questioned in relation to these matters but to date has failed to return to the United Kingdom to allow this process to take place.
"As such, we have been left with little alternative but to consider extradition proceedings and are working closely with the CPS as part of this process."