Failsworth 'ham-fisted' robbery was 'act of pure desperation'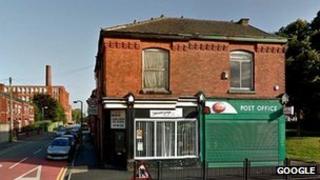 A "ham-fisted" raider's "poorly planned" robbery on a Greater Manchester post office was "an act of pure desperation", police have said.
The robber first tried to smash the security glass at the shop on Oldham Road, Failsworth, using a National Lottery stand on Christmas Eve.
When that failed, the man removed ceiling tiles to climb through to the area behind the counter.
He escaped with a small amount of cash after staff activated a panic alarm.
Det Con Tony Anwas said it was "a poorly planned robbery".
He added that the "ham-fisted execution smacks of an act of pure desperation" and "because of the ill-conceived, last minute nature of the crime, we believe this man is local".