Death Cafe: Discussing mortality over tea and cake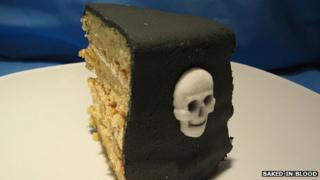 The Church of England has announced a project to trial holding conversations about death in an informal setting.
The Archbishops' Council's Rev Dr Sandra Millar said the idea was about "being there for those who have questions about death", which was one of the "most fundamental things that the Church does".
Grave Talk will be trialled in parishes in Staffordshire until the end of February and welcome people of "all faiths and those with none" to a cafe-style setting.
Outside the church though, non-religious Death Cafes have been held across England for three years.
The movement was started by Hackney-based former council worker Jon Underwood and his mother Sue Barksy Reid, who lives in Chester, in 2011.
Inspired by the work of Bernard Crettaz, who established similar cafes in France and Switzerland, they wanted to create gatherings where people could drink tea, eat cake and talk about their mortality.
For Mr Underwood, using his time to "work around death" was the "best thing that I can do" to make a better planet.
He said the aim was to create a group-directed discussion of death with no agenda in an environment where talking about the subject was "natural and comfortable".
He added that there should not be a fear about discussing the subject, because "you don't get pregnant by talking about sex, so why would talking about death make you die?"
'British reticence'
So far, 524 cafes have taken place across the country and in locations further afield, including the US, Australia and New Zealand.
They last around two hours and can be free or cost a modest amount.
In 2014, six have already been held in Hertfordshire, Hampshire, London, Northamptonshire and Greater Manchester, where funeral director Hugh O'Brien hosted an event in a Heaton Moor cafe.
He said there was "a British reticence about death".
"Everyone seems to be afraid of it."
His inaugural event saw 33 people come to talk about plans for their own death and their experiences of death or learn about the subject to help in their work at hospices or charities.
Sat around tables, they talked about funerals, living wills, why talking about death was taboo and how important it was for people to have their wishes carried out after death.
Louis Taeijon, 47, a psychotherapist from Hulme in Manchester, said he had come with the hope that the cafe would give him support, "because it's hard always being the one giving the help when you can be struggling yourself".
His partner John died of mesothelioma and he helps people with the disease through a support group.
He said the acceptance that we are all going to die was a kind of "sweet surrender".
"We need to influence thinking and get death talked about early on in schools so kids know it's not out of bounds."
He said his partner would have been very interested in the cafe.
"It could be the beginning of changing attitudes by getting people to talk about the inescapable facts."
'Absolutely diabolical'
Isabelle Heyerdahl-King, 54, is used to dealing with death. As an anatomy demonstrator at a Yorkshire university, she regularly shows remains to students.
"I am extremely keen to have a good death," she said.
"The only drawback is that those who are here are already engaged with death.
"It's the rest of the world we need to get talking to, but this is a good start."
On another table, Marianna Laugee, a 36-year-old legal secretary who grew up in Slovakia, spoke of her uncle who took his own life when she was six, her cousin who was knocked down by a car, and her friend who drowned in a river.
She said her experiences had made her become "fixated" with death and led to her collecting dead flies and making them a cemetery with headstones to help her cope.
"Knowing that death can always be around the corner sets me apart from most people my age, who do not want to think about it," she added.
She said she had come "to meet people who can help me get into arranging funerals".
Not everyone had come with such a vivid personal experience.
Bury-based psychologist and therapist Emma Kenny said the idea of Death Cafes was interesting, "despite the name".
But she added that people in the UK were "absolutely diabolical" at dealing with death.
"We spend so much time distancing ourselves from death and thinking it is something that happens to other people.
"One of the things people find difficult to recognise is the vulnerability of life."
"Once you recognise and understand that fact, it almost makes life more of an experience worth celebrating", she said.
"Death is one of the few things that unites us."