Metrolink 4.2% average fare increase hits passengers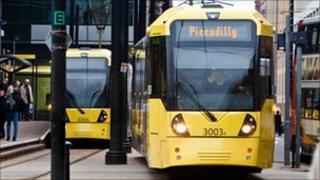 Fare increases of an average of 4.2% have come into effect for Metrolink passengers.
Transport for Greater Manchester (TfGM) said the rise will help fund the £1.5bn network expansion and cover operating costs.
Quarterly season tickets and four-adult day Travelcards have been withdrawn.
TfGM, which oversees Metrolink, said fares will increase from 10p depending on the journey but the cost of some monthly passes will fall.
'Value for money'
But it said planned new Oyster-style "smart ticketing" will make fares "simpler" and "more consistent".
Councillor Andrew Fender, chair of the TfGM committee, said: "At a time when local authorities are facing significant budget pressures, it is vital that Metrolink can cover its own operating costs without any burden on the public purse."
In 2011, Metrolink fares went up by an average of more than 6%.
Mr Fender added: "Metrolink fares continue to offer value for money, particularly for season ticket holders."
The transport committee has also agreed to include the New Islington stop, on the Ashton-under-Lyne to Bury line, within the City Zone, following "customer feedback".
As part of the £1bn expansion, all 32 original trams will be replaced with the new fleet and a second depot and HQ has opened in Trafford.
Work will begin on Monday for £165m Second City Crossing linking St Peter's Square and Victoria station.
By 2016, the Metrolink service will operate over 60 miles with 94 trams covering 93 stops.
On the rail network, fares have increased by an average of 2.8%.