Swimmers complete Salford Quays dip for children's unit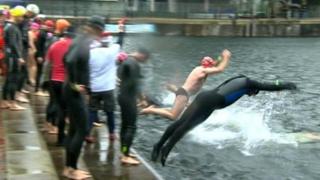 About 100 people have taken part in a New Year's Day Salford Quays swim to raise money for charity.
Swimmers tackled the 300m course in Dock 9 from 11:00 GMT to help the children's unit at Tameside Hospital. The water temperature was measured at 5.5C (41.9F) during the event.
Funds raised will go towards buying handheld monitors to test oxygen levels, heart rates and temperatures.
Organiser Dave Quartermain said the swim made him "feel completely alive".
He said: "Every sense, every nerve ending is singing in joyous pain, it's indescribably lovely."