Wythenshawe autistic boy's sensory room destroyed in arson attack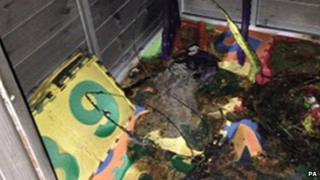 A "cowardly" arson attack on Christmas Day has wrecked a sensory room built as a present for an autistic boy.
Fiona and Wesley Ratcliff, from Culmere Road in Wythenshawe, spent two weeks turning the garden room into a space for their seven-year-old son Harvey.
They had planned to show him the room for the first time on Wednesday, but instead they discovered it had been destroyed by fire.
Det Insp Jane Curran said whoever set the fire "has no morals whatsoever".
Mr Ratcliff said "everyone was devastated" by what had happened.
"We had family come down from Scotland [who] had put in the money towards helping us build it [and] they had all come down to see his face."
He said that the family was "in shock" and added that the room's proximity to the house meant they were "lucky" the fire had not spread.
'Random attack'
Mr Ratcliff, who is a support worker with autistic adults, said he had spent December getting the summer house ready.
"We painted it, put the flooring down, put the lights in, decorated it with pictures and painted it sky blue because Harvey is a Manchester City fan.
"It was just somewhere where he could go when he was having a hard time. I had put the final touches in on Christmas Eve."
He said he thought the fire was "just a random attack" and that disco lights and a digital radio had been taken before the attack.
Det Insp Curran said it was "a disgusting and cowardly crime and I really would like anyone who may have seen anything or who has any information about this to contact us".
"Thankfully, we think that the weather overnight extinguished the fire, otherwise we may have been dealing with a much more serious incident."