Police 'admit failings over Rochdale child sex abuse'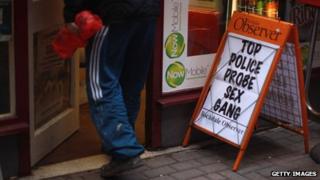 Greater Manchester Police will admit letting down girls who were sexually exploited in Rochdale, reports say.
A serious case review due on Friday will include the findings of the force's own inquiry, which details a series of failings, the Guardian said.
The review examined agencies' actions over the exploitation of six girls in Rochdale borough between 2007 and 2010
Nine men were sentenced to up to 19 years in prison in May 2012 after being convicted of offences including rape.
'Training not right'
The court heard the group plied their victims with drink and drugs and "passed them around" for sex.
According to the Guardian, the police will also be criticised for using officers without the right training to interview potential victims and failing to attend dozens of meetings aimed at protecting one young girl.
BBC social affairs correspondent Michael Buchanan said given previous criticism of other agencies in reviews following the exploitation case, the police are unlikely to be the only authority criticised when the serious case review is published in full on Friday.
A report ordered after the end of the criminal trial revealed one girl spoke to support workers on several occasions about being abused - including giving a detailed complaint to detectives.
However, the report suggests some child protection services failed to act and the abuse continued.