Rochdale mother backs one-punch kill awareness campaign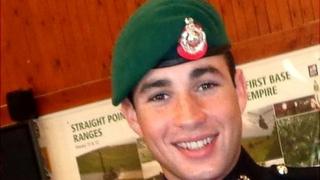 A mother facing the first Christmas without her son, who was killed by a single punch in a drunken attack, is trying to stop the same thing happening to other families by backing a Christmas campaign against drink-fuelled violence.
"Christmas is supposed to be a happy time for the family but unfortunately for us we will be visiting our boy at the cemetery instead."
Wesley Clutterbuck's mother, Sara Whitworth, is facing the first festive period since her 19-year-old son was killed by a single punch on a night out in Rochdale in June.
The Royal Marine hit his head on the ground in the attack and died in hospital the following day.
Reece Kay, of Waithlands Road, Rochdale, was jailed for four years in July after admitting his manslaughter.
"Our family will never feel complete again," Ms Whitworth said, "and I would hate to think of another family losing someone they love through a mindless split-second decision that can destroy a life."
'Devastation and loss'
During the three years to November 2013, 16 people in Greater Manchester have lost their lives due to alcohol-fuelled violence, police figures show.
In an effort to prevent further deaths and injury over the Christmas party season, officers have joined forces with Rochdale Sixth Form College on the One Punch Can Kill campaign - to raise awareness of the potentially devastating consequences of "one thoughtless act after too much alcohol".
Students have created a poster that aims to drive home the message with an image of funeral wreaths and the plea: "It only takes one punch. Walk away from trouble."
Ch Supt Annette Anderson said: "Christmas and the new year is a wonderful time of year for everyone and it should be a period that should be enjoyed without the threat of violence.
"Wesley's tragic death is the sad reality of what can happen as a result of a single punch. Often people don't realise what they are doing when they have had a drink and it is those split-second actions that result in devastating life-long consequences.
"We want this campaign to make people think twice about their actions. Remember if you avoid trouble, control you anger and walk away you could not only save your life but someone else's as well."
Ms Whitworth said she was supporting the campaign so that the death of her son could help to save other lives.
"It's been five months since we lost Wesley and I can't begin to describe the devastation and loss our family have, and continue to feel," she said.
"No mother should have to see the day of their son's funeral.
"This single punch has killed my son and destroyed the lives of everyone who loved him, but if our support can help save a life then he can continue to make a difference."