Cyber attack blackmail pair jailed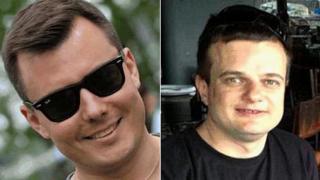 Two men have been jailed for a "sinister cyber attack" on a Manchester-based online casino company.
Patryk Surmacki, 35, from Szezecin in Poland, and Piotr Smirnow, 31, of Tawerny, Warsaw, Poland, pleaded guilty at an earlier hearing to two counts of blackmail.
The pair also admitted conspiracy to access, use and impair computers without authorisation.
They were jailed for five years and four months at Manchester Crown Court.
Greater Manchester Police (GMP) said the pair arranged a meeting with the owner of the online gambling company, who they had known for four years, on 23 July.
'Playground bullies'
At the meeting, police said Surmacki and Smirnow threatened to shut down the company's website if he did not hand over a 50% share of the business.
The owner of the firm, which has a turnover of £30m, reported the threats to the police.
On 3 August, GMP said the pair launched a cyber attack on the firm and customers were unable to access the site for five hours, costing the company about £32,000.
Det Insp Chris Mossop said after the sentencing hearing: "With millions of pounds and potentially dozens of jobs involved, Smirnow and Surmacki were playing for incredibly high stakes and clearly knew what they were doing."
He said the pair used their expert knowledge and "extreme intimidation".
Det Insp Mossop said: "They may have been using the latest technology but this was simply good old-fashioned blackmail.
"They behaved like a couple of sinister playground bullies who thought they could use the threat of financial annihilation to extort compliance".