Neville Neville claims sex attack accuser 'wanted newspaper article'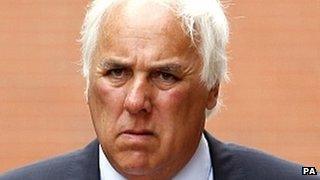 The father of footballers Gary and Phil Neville told police the woman he was alleged to have sexually assaulted was "after a newspaper article", a court has heard.
Neville Neville, 63, of Larkfield Close, Bury, denies assault by penetration on a woman on 23 March.
Bolton Crown Court heard he told officers he "didn't force her".
The woman has previously told the court she told him to stop it twice at the end of the alleged assault.
Mr Neville's police interview was played to the jury.
In it, he admitted he "should not be kissing other women" as he was married, but said he and his accuser had "kissed passionately" and there were "no problems".
'Absolute nightmare'
During the interview, he said he asked her "Do you want to take it any further?" and she replied "Don't be silly" and he went home.
The court heard Mr Neville go on to tell the officer he was diabetic, has bladder cancer and a bad heart, so "could not have had sex with her if [he had] wanted".
"I didn't force her. It was natural. It shouldn't have happened because I am married," he said.
He said that he did not know why his accuser had "done this" and that it was "an absolute nightmare".
"She will be after a newspaper article here. She must be," he said.
"Why would I try and do anything like that outside my own house, in my own street?"
"I couldn't even say I was drunk. I wish I were. She never ever once indicated to me that she did not want to do it."
The court has heard from the woman that she did not say no to Mr Neville, but she had gone "stiff", which was like "my body was saying it was not consensual".
"That is 'no' without saying 'no'," she said.
Mr Neville is the former commercial director and commercial manager of Bury Football Club.
He was involved in the fans' group Save Our Shakers, which was formed when the League Two side faced bankruptcy in 2002.
The case continues.