Barton Moss: Fracking protesters in wind turbine blockade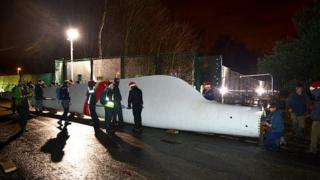 Anti-fracking protesters have blockaded a shale gas test drilling site with a 17m (56 ft) wind turbine blade.
Campaigners assembled the blade in a "symbolic action" outside the Barton Moss site in Salford at 05:30 GMT.
Greater Manchester Police has moved the blade to one side and looking at what other action to take.
A spokesperson for IGas, which operates the site, said the company respected anyone's right to protest, but said the action disrupted the neighbourhood.
The No Dash for Gas group said about 50 activists unloaded the 1.5-tonne blade from a lorry and assembled it. IGas said there were 30 protesters.
A spokesperson for the group said: "This is a symbolic action - there are environmentally-friendly forms of renewable energy that we should be pursuing."
Sandra Denton, one of the people who put the blade in place, added: "We've delivered this early Christmas gift to IGas to remind them that we don't need damaging, risky and polluting energy sources like oil and gas to power the UK."
A statement from IGas said: "We do not condone any protest activity which impacts the right of local people to go about their daily lives and work.
"We continue to operate in accordance with all the necessary regulation and permitting."
The blade was used last year as part of an unofficial art performance at the Tate Modern Turbine Hall in London.
It was unveiled by art collective Liberate Tate in protest at the gallery's connections with BP and other oil companies.