Manchester Cathedral 'pop-up' Nelson Mandela service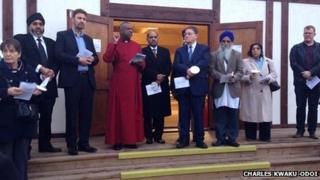 A short service to remember Nelson Mandela has taken place at a "pop-up" cathedral in Manchester.
Blessings were said and candles were lit outside Cathedral on the Street.
The dean of Manchester, South African-born the Very Rev Rogers Govender, led the service.
Mr Mandela's body was laid to rest earlier following a state funeral service in Qunu, his ancestral home in South Africa's Eastern Cape Province. He died on 5 December aged 95.
Councillor Pat Karney, Manchester City Council's city centre spokesman, said it was probably "the final episode" of Manchester's Mandela story.
A wooden statue of Nelson Mandela in chains was housed in Manchester Town Hall for almost 20 years, before it was presented to Denis Goldberg, a political activist imprisoned alongside the freedom fighter.
Cathedral on the Street is a temporary wooden church opened in Manchester in March ahead of work to install a new heating system in the Anglican cathedral.