George Osborne protest: Cheshire HS2 campaigners' demo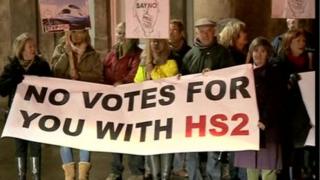 Protestors against plans for the HS2 rail link in Cheshire attempted to lobby Chancellor George Osborne outside a meeting to discuss the scheme.
The Tatton MP met parish councillors in a closed meeting about the high-speed rail project at Macclesfield Town Hall.
Campaigners said they were angry because the chancellor had refused to meet them face-to-face to discuss concerns or let them attend the meeting.
Mr Osborne has yet to comment.
The HS2 scheme would cut rail journey times between London, the Midlands and northern England.
The first phase, from London to Birmingham, is due for completion in 2026, with a second Y-shaped section from Birmingham to Manchester and Leeds due to be finished in 2032-33.
The Commons Transport Committee concluded in a report that HS2 was "essential" for the UK's future potential gains "significantly outweigh" any risks and said extending the link to the north of England should be speeded up.
About 25 campaigners including people from Mid Cheshire Against HS2 demonstrated outside the town hall.
The chancellor, whose Tatton constituency is affected by the proposed route, did not enter or exit the building where the protest took place.
Protesters said his unwillingness to discuss their worries about the rail link was "a total abrogation of his constituency responsibilities".